CCT News Round Up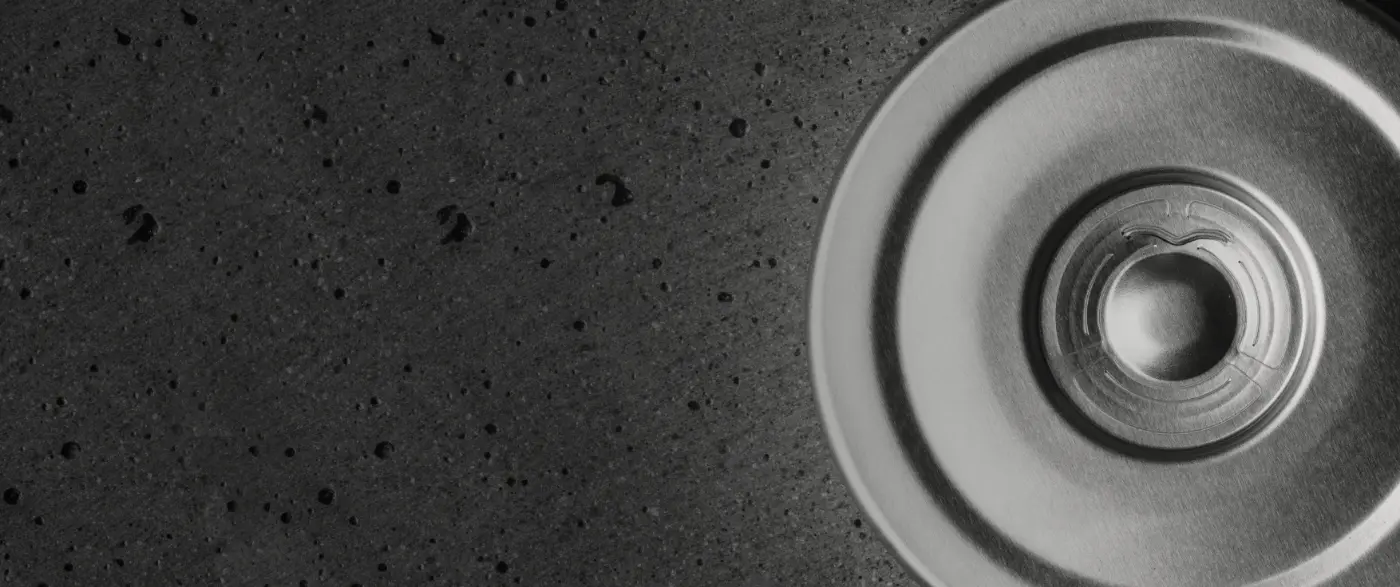 CCT has been front and center in the news again lately. Gourmet News wrote an excellent piece on the EEASY Lid and Forbes again cited the EEASY Lid as a great example of assistive technology. Media coverage also continued to roll in following the EEASY Lid's debut in the European market. 
In case you missed it, here's a recap of some of the best articles and a look at a few other top headlines.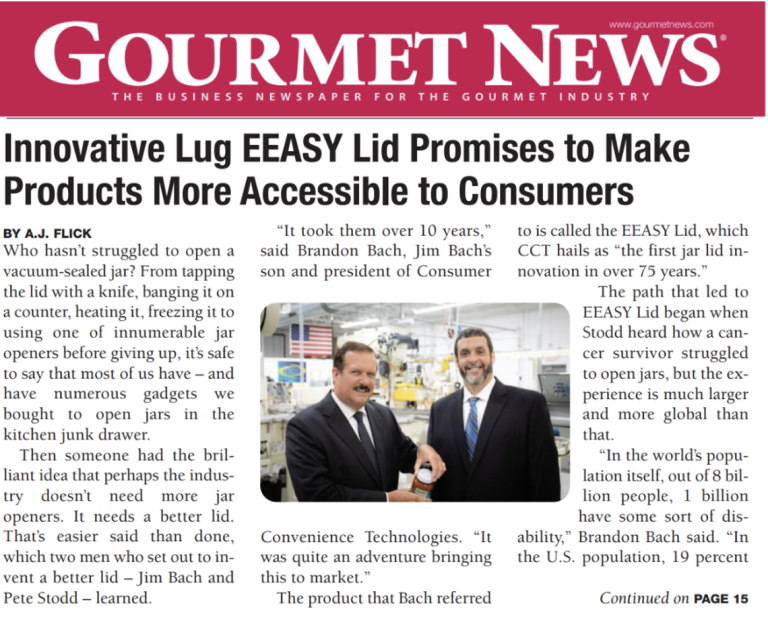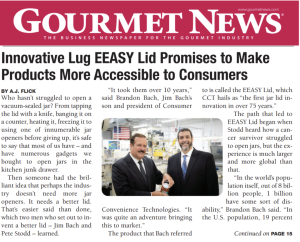 Gourmet News
Leading with the headline "Innovative Lug EEASY Lid Promises to Make Products More Accessible to Consumers," Gourmet News, a premier magazine for the specialty foods industry, recounted CCT's journey on the road to inventing a better jar lid.  
The article stated that CCT "had the brilliant idea that perhaps the industry doesn't need more jar openers. It needs a better lid." 
The article noted that the EEASY Lid is simple. Consumers press a button on the lid's center, which reduces the vacuum seal and allows the lid to be opened with significantly less effort. The sustainability and safety features of the EEASY Lid were also detailed in this piece. 
Quoted in the article, CCT president Brandon Bach said, "brands and grocery stores can boost sales once consumers realize how easy it is to open products." 
The article highlighted that co-packer Craft Cannery in New York has converted its production line to exclusively use the 63 mm lug EEASY Lid as it produces Guglielmo's Sauce for 250 grocers across New York, New Jersey and Pennsylvania. 
Read the full article here. 
Forbes 
Forbes contributor Steven Aquino mentioned CCT's EEASY Lid again in his coverage of assistive technology. Aquino reminded readers that "although it is very true analog pieces of tech like the aforementioned EEASY Lid aren't … as headline-making as iPhones or MacBooks or AirPods, it's also true analog tools are valid examples of assistive tech in their own right." 
Read the full article here. 
Food Navigator Europe 
Another standout piece of coverage appeared in Food Navigator Europe, a publication that provides news stories and data of value to decision-makers in food and beverage development in Europe.  
Headlined "German Grocer Becomes First in Europe to Embrace First Major Jar Lid Innovation in 75 Years," this article reported on the news of EDEKA Kempken, Germany's largest supermarket, adopting the EEASY Lid.  
The article included a quote from Heiner Kempken saying, "I was quickly convinced that CCT's EEASY Lid is a great innovation and a real help for many people opening jar lids. That's why we are presenting this new lid in our stores."  
A 2021 quote from CCT president Brandon Bach is also included in the article: "The EEASY Lid is a modern and sustainable jar that significantly reduces the effort needed to open and reapply the lid. Through our research, we've found that nearly 50% of the market struggles to open jar lids. That's a US figure, but we've got to believe that this is the same worldwide." 
Read the full article here. 
Below are some other notable headlines on the EDEKA Kempken announcement: 
 Keep an eye on this space for more exciting news and developments from CCT.