Industry Trends: Circular Products
As we've stated in our recent posts, many manufacturers are beginning to shift their sustainability efforts due to the change in consumer behavior over the years. One of these shifts is the re-purposing of plastic within products and packaging.
Plastic has been the main source of containers and packaging for over 50 years and is an integral part of keeping our goods safe while in transport and for storage. However, we know that the increased use of plastic has had a negative effect on our oceans, rivers, streets and overall environment.
A recent article from Unilever – one of the world's largest packaging distributors – tackled this issue by determining that the packaging and consumer goods industries need to transition into what is known as a circular economy.
During the past few decades, our economy has been using a linear model when it comes to product production – meaning products are manufactured, used and then disposed of immediately. The World Economic Forum states that waste from plastic packaging can cost the world's economy anywhere from $80-$120 billion in damages each year, with 40% of plastic waste remaining in landfills and a third of all plastic garbage being disposed of in vital ecosystems.
In comparison, a circular model will allow for a restorative and regenerative economy, as it involves packaging materials being reused, recycled or composted to decrease waste. Materials will be constantly flowing in a circular system, rather than being discarded.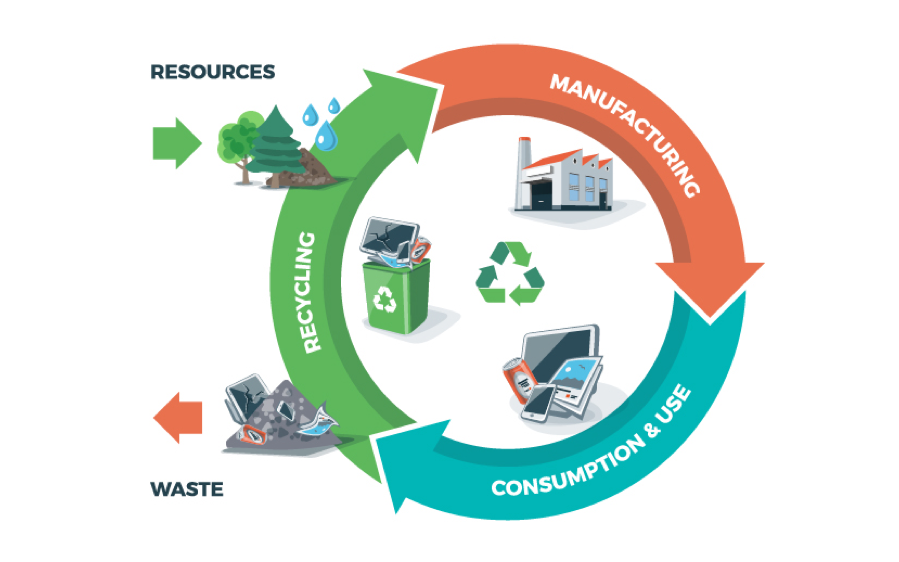 Source: Green Dot Bioplastics
In the article, Unilever pledged to have halved the amount of their plastic usage and ensure that 100% of their plastic packaging is recyclable by 2025. Unilever is just one of many companies pledging to shift its goods into "circular products" this decade as the packaging world strives to establish a circular economy.
Switching to a circular economy will also mean a change in materials used for packaging. One of these material changes is the switch from plastic to aluminum in packaged goods. According to the Aluminum Association, aluminum cans contain on average 73 percent recycled content – more than 3X the amount in a glass or plastic bottle. Therefore, in a circular recycled scenario, aluminum is recycled continuously.
As more companies begin to join this trend, products such as our EEASY Lid will prove to be useful. Our goal for 2021 is to keep producing the EEASY Lid with an emphasis on sustainability, providing manufacturers an easy solution when making the transition into a circular