Making a Splash: EEASY Lid Topping Guglielmo's Sauce Grabs Headlines 
On March 1, CCT announced that Guglielmo's Sauce became the first food brand to adopt the aluminum lug EEASY Lid. That announcement attracted news coverage from TV, trade, business and lifestyle media outlets. 
News 8 WROC Rochester  
This CBS television affiliate in Rochester, New York, ran a segment on the announcement, highlighting that the EEASY Lid is easy to open for people of all abilities. Paul Guglielmo, owner of Guglielmo's Sauce, was interviewed and talked about how he has seen firsthand the difficulties people have opening jars. He said, "I've gotten phone calls before from people who bought our sauces who've said, 'I can't get the lid off.'" Guglielmo also said he has actually driven to people's homes before and popped the lid for them.   
The segment, which aired six times, can be viewed here.  
RochesterFirst.com 
The News 8 WROC segment was posted to the station's official news site, RochesterFirst.com with the headline: "Guglielmo's adopts accessible lids for easier opening."  
Read the story here.   
WUHF Good Day Rochester 
The Fox television affiliate in Rochester, New York, had Paul Guglielmo in-studio to discuss his partnership with CCT. On the live Good Day Rochester morning show, Paul discussed how he became acquainted with CCT and helped an anchor test the EEASY Lid on air. 
The segment and accompanying article can be accessed here. 
Dayton Daily News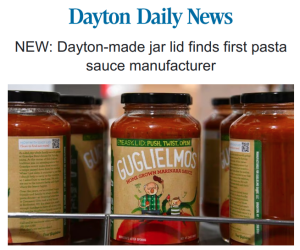 Dayton Daily News did an in-depth feature on the home-grown, innovative EEASY Lid, which was tied to this announcement.   
Headlined "Dayton-made jar lid finds first pasta sauce manufacturer," the article highlighted that Guglielmo's Sauce with the Dayton-designed top is available in stores across New York, New Jersey and Pennsylvania and noted that the inspiration behind the EEASY Lid is simply to "allow more people to open jar lids with their own hands, without a tool or product to assist."  
The article reported that CCT is in talks with additional national and international manufacturers/grocers to bring the EEASY Lid to more grocery store shelves across the globe.  
CCT president Brandon Bach, who was interviewed for the article said, "We see the benefits. We see the possibility of the EEASY lid. It's making life easier for consumers."   
Read the full story here.  
Progressive Grocer  
Progressive Grocer, a trusted source for news, consumer trends, competitive insights in the food retail industry, also covered the announcement.   
Headlined: "Solving the Perennial Jar-Opening Struggle," the article included a photo of the EEASY Lid on Guglielmo's Sauce captioned: "With a push of a button on top of the EEASY Lid, users can more easily open a jarred food product."  CCT's YouTube explainer video was also embedded in the article.   
Beginning by pointing out that the struggle is real for many people who find it difficult to open food jars, the article highlighted that Guglielmo's Sauce is aiming to make that task easier for consumers by partnering with CCT.  
Paul Guglielmo was quoted in this piece saying, "With the EEASY Lid, our sauce becomes inclusive to all customers. There's nothing else like it on the market."  
CCT president Brandon Bach emphasized CCT's mission to solve the decades-old problem of opening stubborn jar lids and said, "The EEASY Lid is providing consumers with a better experience that translates into sales and brand loyalty."  
Read the full article here.  
 Other coverage  
The Rochester Business Journal also covered the announcement and additional coverage is expected soon in Sustainable Packaging News. 
Stay tuned for more media coverage recaps!